---
520.646 Wavelets and Filter Banks
---

Department of Electrical and Computer Engineering
The Johns Hopkins University
Fall 2018

TA

Shuwen Wei
Address: Barton 223C
Email: swei14@jhu.edu Office Hours : Thurs 2-4 in Barton 223C or by appointment

Lectures

Mon Wed Fri, 11:00 - 11:50, Shaffer 304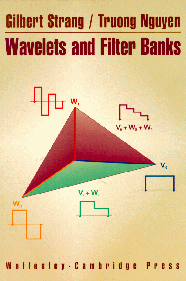 Texts

G. Strang and T. Q. Nguyen, Wavelets and Filter Banks, Wellesley-Cambridge Press, Wellesley, MA, Revised Edition, 1998. (Required).
M. Vetterli, J. Kovacevic, and V. Goyal, Foundations of Signal Processing and Fourier and Wavelet Signal Processing, Cambridge University Press, to be published.
Additional References

P. P. Vaidyanathan, Multirate Systems and Filter Banks, Prentice Hall, Englewood Cliffs, NJ, 1993.
C. S. Burrus, Ramesh A. Gopinath, and Haitao Guo, Introduction to Wavelets and Wavelet Transforms : A Primer, Prentice Hall, 1997.
A. N. Akansu and M. J. T. Smith (Editors), Subband and Wavelet Transforms : Design and Applications, Kluwer Academic, 1996.
L. Cohen, Time-Frequency Analysis, Prentice-Hall, 1995.
C. K. Chui, An Introduction to Wavelets, Academic Press, 1992.
R. E. Crochiere and L. R. Rabiner, Multirate Digital Signal Processing, Prentice Hall, 1983.
I. Daubechies, Ten Lectures on Wavelets, CBMS-NSF, SIAM, 1992.
G. Kaiser, A Friendly Guide to Wavelets, Birkhauser, 1994.
S. Mallat, A Wavelet Tour of Signal Processing, Academic Press, Second Edition, 1999.
H. S. Malvar, Signal Processing with Lapped Transforms, Artech House, 1992.
K. R. Rao and P. Yip, Discrete Cosine Transform: Algorithms, Advantages, Applications, Academic Press, 1990.
R. M. Rao and A. S. Bopardikar, Wavelet Transforms: Introduction to Theory and Applications, Addison-Wesley, 1998.
B. W. Suter, Multirate and Wavelet Signal Processing, Academic Press, 1998.
P. N. Topiwala (Editor), Wavelet Image and Video Compression, Kluwer Academic, 1998.
Topics

Multirate Signal Processing: filter banks, multirate systems, filtering, decimation, upsampling, polyphase, perfect reconstruction, aliasing cancellation, signal representation and signal decomposition using vectors and matrices.
Wavelets: wavelets from filter banks, bases, frames, orthogonality and biorthogonality, multiresolution, smoothness, vanishing moments, time-frequency and time-scale analysis, continuous-time and discrete-time wavelet transform, famous wavelet pairs, wavelet packet, symmetric extensions, complexity issues.
Design methods: spectral factorization, polyphase matrix factorization, lattice structure, ladder structure (lifting scheme), integer wavelets, cosine modulation, time-domain optimization.
Applications: Audio/Image/Video compression -- lossy and lossless, subband coding, quantization effect, signal denoising, wavelet shrinkage, inverse halftoning, database retrieval and indexing, multicarrier modulation, transmultiplexers, edge detection.
Connections to compressed sensing, sparse recovery, convolutional neural networks, deep learning!
Final Project

Students are expected to work on a related topic of choice.
The topic can be chosen from a list of suggestions provided by the instructor.
A final project report and an oral demonstration/presentation are required from each project.
Grading

Midterm Exams: 50%
Homework / Class Participation: 25%
Final Project: 25%
Important Dates

First lecture: Thurs - Fri, 08/30 - 08/31/2018, 11:00AM, Shaffer 304
No class on Monday, 09/03/2018
Ethics Issues

Please read the information provided by the Ethics Board.
Midterm Exam will be closed book and closed notes. One 8.5 x 11 handwritten formula sheet will be permitted.
On homework and projects, you are permitted to discuss the problems for clarification purposes, and to help each other with specific points. However, the overall solution and write-up should be your own work.